Dear Ladies and Gentlemen,

CIPP (Cured in Place Pipe), widely renowned and commonly used method of the renovation of the underground infrastructure, has a tradition lasting almost half of the century. For the first time, it was used in East London in 1971, to rehabilitate a part of the brick egg-profiled sewer. In the beginning, it was used only in Great Britain but with time it was popularized in other countries as well, both in Europe and outside of it. Nowadays using the cured in place liners is the most popular method of renovating the infrastructure – and the scope of the usage is constantly growing as it encompasses more and more different types of the pipelines (e.g. gravity pipelines and waterworks).
As the numerous analysis and reports by the renowned research institutes show, the level of proficiency of the conducted works in CIPP technology increases. It is the effect of the increasing level of experience gained by the contractors, as well as the constant enhancements made to the products, equipment and technology itself. Dynamics of the evolution and changes in the technology require the industry meetings, where theoreticians and practitioners can discuss this topic, including its every aspect. The only event like this in Poland – focused solely on the CIPP – is CIPP Technology Days conference. It has been organized yearly since 2017. All of the parties of the investment process can discuss the most pressing matters concerning CIPP during this event.
The last meeting took place on January 11-12, 2019 in Wrocław, Poland. The aim behind this conference was to continue the discussion from previous years, including the topics indicated by the Participants, alongside with the relevant novelties and changes that appeared on the market during the last year.
According to the formula of all of the conferences organized by the Wydawnictwo INŻYNIERIA sp. z o.o. publishing house, agenda of the event was prepared in a way that engages the participants in the discussion, so the acquired knowledge could help them to make better decisions in their work, founded on the reliable expert knowledge.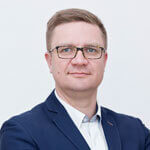 Paweł Kośmider, Chairman of the Conference