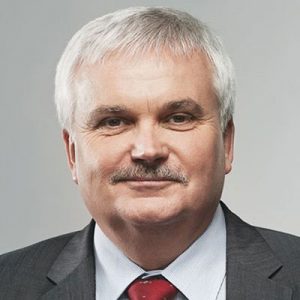 prof. dr hab. inż. Cezary Madryas, Politechnika Wrocławska
Professor Cezary Madryas graduated from the Faculty of Civil Engineering at Wrocław University of Science and Technology in 1976. He obtained a Ph.D. in Technical Sciences in 1982, and in 1993 received his habilitation and became an Assistant Professor of Technical Sciences. In 2003 he received the title of Professor of Technical Sciences and in 2007 was employed as a Full Professor.
During his career at the University he has been the Director of the Institute of Civil Engineering (2002-2005), Dean of the Faculty of Civil Engineering (2005-2008), Vice – Rector for Development (2008-2016) and the Head of the Department of Structural Mechanics and Urban Engineering (2014-2020), Rector of Wrocław University of Science and Technology (2016-2020).
The majority of studies conducted by Prof. Madryas focus on development in its broadest sense, modernization and the recovery of underground infrastructure of urban areas. Studies related to this field of engineering have been conducted by Prof. Madryas in many Polish cities: Gdańsk, Katowice, Kraków, Poznań, Szczecin, Torun, Warszawa, and Wrocław.
Professor Madryas is the author or co-author of eight books, including four monographs and four academic publications, of which Microtunneling Sewage Pipeline Construction or Multi Wire Tunnels have become the main textbooks for students of faculties of Civil Engineering and Environmental Engineering at Polish universities.
He is also the author or co-author of 480 works documented in the DONA system (University Publication Catalogue), including over 170 published scientific works (65 on an international scale) and 290 reports on research carried out for the National Economy (SPR reports).
Prof. Madryas is a member of Academia Europaea, doctor honoris causa of Ton Duc Thang University in Vietnam (TDTU) and honorary professor by Óbuda University.