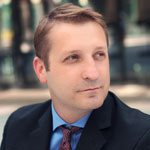 Jakub Blejsz, CEO of BLEJKAN S.A.

It is the one of the most important events in the industry, our company takes part in it obligatorily each year
BLEJKAN S.A. participates in several events of this kind every year. There are fairs and conferences that we support, for example by the sponsorship (at various levels of engagement). There are also many reasons why we attend these events. It is difficult to indicate which is the most important. It often depends on the type of the event. During some of them, the promotion of the BLEJKAN brand is of the utmost importance, elsewhere we stress the promotion of trenchless technologies, and sometimes we want to deepen our knowledge or become acquainted with the latest techniques and technologies used in our industry. A bonus feature of participating in the events like that is that you can have multiple conversations with various types of contractors under more pleasant circumstances than it happens on an everyday life basis.