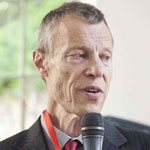 dr inż. Andrzej Kolonko, Wrocław University of  Science and Technology

This is an important event for people associated with underground infrastructure
"Trenchless ENGINEERING" International Conference, Exhibition and Technology Shows, during which a specialized exhibition and technology shows are organized, has become an important event for people associated with underground infrastructure.
Every year our team from the Wrocław University of Technology is pleased to take part in such an inclusive meeting. It is a very anticipated opportunity to exchange experiences,
see your friends and meet new people from the industry. During this event, I always learn about some new products that haven't caught my attention despite the contact with industry press.
Discussion panels are also a very good idea because you can listen to the presentation of contractors, scientists, designers and investors, and each of them has a different point of view. Discussions are therefore very interesting, and sometimes even very exciting. I think that it is really worth being there and meeting in a very nice and large group of people who, with their repeated presence at the event, proves the purposefulness of participating in the annual "Trenchless ENGINEERING" Conference.