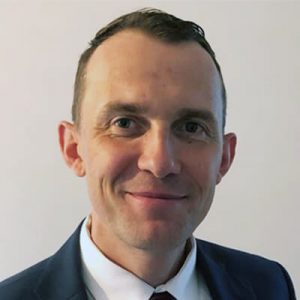 Janusz Czajkowski, Ramboll Polska Sp. z o.o.
Janusz Czajkowski is responsible for Ramboll's design and engineering Offshore Wind activities in Poland. Janusz has more than 20 years of experience form successfully leading and supporting offshore and maritime projects including oil and gas, offshore wind, shipbuilding, maritime transportation with extensive knowledge in maritime and offshore industry worldwide and in Poland. Janusz graduated from Maritime Academy in Szczecin and holds MSc. Eng. maritime transportation also studied and certified in project management, company management and offshore wind industry related studies by SGH, AGH, Kozminski University, TU Gdansk and TU Delft. He specializes in comprehensive project management with strong accent in engineering and design and relevant subjects with special attention in consultancy in field of offshore maritime transportation, installation processes, offshore logistics and supply chain. Janusz has extensive knowledge and proven track record in reputable companies in comprehensive project management working previously as project manager, master mariner, technical director, and company management as board member and CEO which allowed to build unique knowledge about market standards, regulatory frameworks, best technical and commercial practices as well as strategic advisory in offshore industry.

Offshore wind farms design process as an important element of mitigating investment risk
Due to high complexity of Offshore Wind Installation Investments project are typically at the high level of risk and sensitive for changes. Risk (and opportunity) is present at every stage of the project and concerns primary cost, time and scope and related quality. Project variables typically considered as risks may be turned into opportunities if properly predicted, described and valuated at the design and engineering stages.