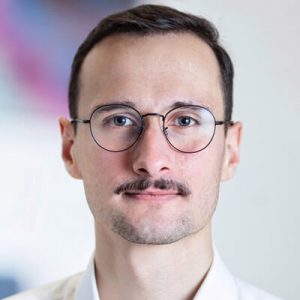 dr inż. Dawid Augustyn, Ramboll Polska Sp. z o.o.
Dawid Augustyn is an offshore wind specialist with 7 years of experience in substructure design and asset integrity management of offshore wind structures. Dawid holds a PhD degree from Aalborg University on the topic of offshore structure digital twin technology.
Dawid has been involved in 10+ offshore wind projects on various levels of detail: concept, FEED, detailed design, and O&M including lifetime extension. Dawid'd key qualifications include: steel design of offshore wind structures, structural dynamics, load modeling, asset integrity management, digital twin technology (system identification, model updating, uncertainty quantification), risk and reliability.

Application of Digital Twin technology in OWF design and monitoring
The digital twin technology has the potential to significantly improve the design of future offshore wind turbines and operation of the existing ones. In this presentation the digital twin technology will be introduced in the application to offshore wind turbines. Ramboll's vast experience in applying this technology will be summarized and few examples of value generation by using Ramboll's True Digital Twin technology will be presented.